bbb 2003 >> special events >> Sonja Savić Film Academy Special Film and Music Performance

Sonja Savić Film Academy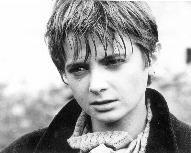 Saturday, 5 Jul 2003, 20:00-24:00, Acud (in English)
ab 24:00: Multimediaperformance at Mudd Club
Sunday, 6 Jul 2003, 20:00-24:00, Nickelodeon (in English)
Sonja Savić became famous in the 1980s as an actress in a great many films, of which "Balkanski špijun" (Balkan Spy), "Šećerna vodica" (Sugar Water) and "Kako je propao rokenrol" (How Rock'n'Roll Went to Shambles) are among the best known.
From 1993 onwards, Sonja Savić has also been directing films herself, primarily low-budget experimental videoworks, in which she documents the political and cultural breakup of "XU" (i.e., ex-Yugoslavia) in her own idiosyncratic style. Most of these films deal in some way or another with music and theatre. The second part of the programme Sonja Savić will present at BBB under the heading "Psychodelic Vaudeville" will feature a selection of these works.
The first part of the programme will present Sonja Savić's most recent film, "Šarlo te gleda" (Sharlo is Watching You), a filmical homage on some of the key figures in the rise (and its eventual decline only two decades later) of the independent music scene in Yugoslavia at the end of the 1960s: Ivica VD Vdović, Milan Mladenović, Vlajko Lalić, Margita Stefanović, Cane and their bands "VD i Vlajko", "EKV" and "Partybrejkers". The film includes, among other things, material from Vlajko Lalić's only album "Šarlo akrobata" (Sharlo Acrobate) as well as clandestinely recorded material of private sessions of this exceptional musician, who refused to perform in public from 1977 until his death.
Sonja Savić will be present at the screenings on Saturday and Sunday and introduce her films personally to the audience. Everything will be done in English or with English subtitles. After the screenings on Saturday, there will be a multimedia performance at the upstairs lounge of Mudd Club, featuring motifs from Sonja Savić's films and music from DJ Psycho Cyber Killer (Peđa Todorović).
Film programme:

1. "Šarlo te gleda" (Sharlo is Watching You), XU 2003, R: Sonja Savić, VHS, engl.-jug. OF, 64 min

2. "Film Academy SuperNaut Belgrade Undergrund" (Jun 1995), 36 min., R: Sonja Savić. Based on songs created during 1993, at the time of the biggest blood letting among the Southern Slavs; the peace process which culminated in the Dayton Agreement had began at the point.

3. "Techno Vaudeville SuperReal" (March 1996), 55 min., R: Sonja Savić. Dedicated to freelancers and 300,000 imigrations of the South Slavic ex-generation from Belgrade and participants in one more unsuccessful psychedelic poetic reform of the 60's (Malkom Mooney and Kan); the resolution of this disintergration is that only the system is eternal.

4. "Play: Historical Musical Spectacle dedicate to the Students and uniforms of Belgrade" (April 1998) 22min., R: Sonja Savić. The film was created as precognition amid yet another unsaccessful attempt at reform by the present students of Belgrade; dedicated to psychedelic intellectuals of the information era (William S. Burroughs, Robert Wilson, Marshal McLuhan). Ending in the flourishing McDonald milieus among the Southern Slavs.