The Death of Mr. Lazarescu – Moartea domnului Lazarescu
Regie: Cristi Puiu; 150 Min. RO 2005 (OmE)
Wettbewerb: Golden Black Box Competition

Brotfabrik Kino, Sa, 18.11.2006 um 22:00 Uhr
ACUDkino, Do, 23.11.2006 um 20:00 Uhr
babylon berlin:mitte, Fr, 24.11.2006 um 19:30 Uhr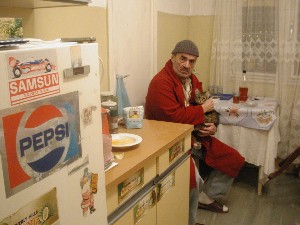 At home alone one night Mr. Lazarescu feels unwell. An ambulance finally arrives that takes him on an tragic-comic odyssey. Various contradictory diagnoses are pronounced and treatment is incessantly delayed. The doctors remain cool and obstinate while Mr. Lazarescu descends deeper into the Bucharest night.

Production Notes - Interview with the director)(from the press booklet)

HOW DID YOUR FILM COME ABOUT ?
Since I admire Eric Rohmer very much, I wanted to answer his Six Moral Tales with my Six Stories from the Bucharest Suburbs : six love stories - the love of your fellowman, love between a man and a woman, love for your children, love of success, love between friends and carnal love. For several months, we searched for the right tone for this first part of the series which tells the story of Mr. Lazarescu and his slow disappearance. Mr. Lazarescu speaks about a world where love for our fellow man doesn't exist, about someone whose need for help is ignored by all round him.
WHERE DID THE IDEA TO EXPLORE THE HOSPITAL SETTING COME FROM ?
At the beginning I asked myself : what kind of story would, E.R. (Emergency Room) Romanian style lead to ? When you watch the American TV series, there's movement in every direction, the choreography of the characters is amazing, but I can't believe in it. In my country, doctors and everyone else live in slow motion, as if they were on Valium, and still had 500 years left to live. There's time for everything, so why hurry ? However, I wanted to explore this world because it provides material for creating suspense. Strangely enough this typically Romanian slowness reinforces the buildup of tension.
WE LEARN VERY LITTLE ABOUT THE CHARACTER AND THE PAST OF MR. LAZARESCU. HOW DO YOU SEE THIS CHARACTER ?
His identity is not very strongly drawn. His appartment, his clothes, his life with his three cats give the audience some small clues. But the film is not about this old man, it's an observation of circumstances which create a certain tension. Mr. Lazarescu is one of these stubborn people who are sure that what they themselves think is right and don't look any further. He's grown old and now lives alone with his three cats. He's not a victim of his fate, but he dies amid general indifference. It's a lonely end which is both banal and disturbing at the same time : whether you die as a hero or on the street – in the end you're always alone.
IS THE NAME MR. LAZARESCU A REFERENCE TO MIRACLES ? DOES HIS DEATH RELATE TO ANY PARTICULAR SYMBOLISM ?
In the film, the names Dante, Anghel, Virgil, or Remus have particular resonances, symbolic hints. Everyone knows that Jesus raised Lazarus from the dead, but nobody knows how he died. Our film could be the hypothetical death of Lazarus in 21st century Romania. – amid general indifference, alone and in a context marked by lack of communication.
WHERE DOES THIS LACK OF COMMUNICATION COME FROM ?
In Romania we have a certain kind of lethargy. We're experts in talking at each other which leads to funny situations and these crop up from time to time in the film. I observe a man dying, his disappearance, the last hours of his life. He has to deal with what he's been given - words, phrases, names. How do you say goodbye to this world? Especially with all these last stupid and ordinary things.
IS THE HOSPITAL, THE MAIN SETTING OF THE FILM, A CRUEL MICROCOSM OF OUR SOCIETY ?
Doctors are meant to look after their fellow. At the hospital they're meant to remain quite cool and distant. When they're faced with someone who's suffering, they have to inspire confidence in them. Doctors treat 30 to 50 patients a night. Faced with suffering on that scale, even an Anghel down from heaven would start to toughen up! A hospital with all this movement offers the ideal setting for a human comedy : I wanted to give Lazarescu material rich enough for him to "film" his final images of the world, his last film of the world he's leaving. At the end of the film, a Dr. Anghel is called, but he remains invisible.
WHY ARE EXTERIORS, CITY AND NATURE, ABSENT IN YOUR FILM ?
I like the idea of a road movie at night in a confined space. Already my first film Stuff and Dough took place in a car. I'm fascinated by the idea of confinement. When I was young, Kafka infiuenced me and this has certainly left a mark. As well as Russian literature of the 19th century which helped me to find ways of communicating my own vision of the world. I thought of a short story by Tolstoy The Death of Ivan Illyich where the world changes before the eyes of a dying man. But how do you show this sensation of dying from the outside?
WHY DO YOU FILM IN ALMOST REAL TIME?
Learning the truth about a situation, however banal, can take a lifetime. The story takes place over six hours, but it can't be told in real time. The filmmaker has to choose those bits of reality to film. Every time you cut, you turn the camera or your eye towards one situation, you turn your back on another. The slow disappearance of Mr. Lazarescu takes place over a long time to give the viewer time to go through all the feelings produced by the film from irony to pity right through to anger, frustration and powerlessness.
DO YOU FILM WITH A SHOULDER-HELD CAMERA SO THAT VIEWER FEELS THE CAMERA'S "HUMAN" PRESENCE?
I like to react quickly, to capture dialogue and the movement of the characters as they're happening. I like when the camera's presence can be felt and particularly in situations where there is no real connection between the characters. In a selfish world, the camera has to be careful and find a place to observe from. The viewer, for their part, should have enough space and distance from the film to be able to observe it and let their imagination work.
HOW DO YOU WORK WITH ACTORS ?
My scripts are very detailed and the camera doesn't move around by chance. Our budget was very limited and we filmed for 39 nights in different hospitals in Bucharest. We rehearsed for three weeks before shooting to define the characters and determine all the camera movements meticulously. I told the cameraman not to move the camera too soon because the camera movement shouldn't predict the characters' lines or movement. My camera goes after the real. WHAT PLACE DOES SPEECH HAVE IN YOUR FILMS ?
Because my film speaks about communication, we show relationships between three characters as often as possible: Two people talk, the third person mediates. But I also show that this triangular relationship doesn't work at all.
WHAT ARE YOUR INFLUENCES ?
I was a painter when I discovered cinema with Jim Jarmusch's Stranger than paradise. His dryness and minimalism, far removed from American mainstream entertainment, inspired me. Today, creatively I feel close to the style of Raymond Depardon and John Cassavetes. I love Rohmer's economy of means, his ethics. He manages to give expression to our deepest questions, to our fears and anxieties with an apparent lightness. Rohmer remains attached to human beings, while maintaining a certain respectful distance.
WHY, AT THE AGE OF 38, DO YOU SEE THE WORLD IN SUCH A DARK WAY ? I'm afraid of dying. When my first film Stuff and Dough was selected for Cannes in 2001, I fell into a long depression which lasted 2 years. At that moment my heightened sense of hypochondria started. Even today I sometimes have quite deep crises, fears and anxiety attacks. Unconsciously I had the feeling that all my cells were going to disappear.
WHAT PART DOES CINEMA PLAY IN YOUR LIFE ?
It helps me to live, to exorcise my fears. This film is a reflection of my hypochondria. For two years, I surfed the Net to find an explanation for the health problems I thought I had. Having a stone in your kidneys is like the perfect expression of suffering. I have to get it out of my body and give it shape through cinema.
IS THERE A GLIMPSE OF HOPE AT THE END ?
My film is dark, but you're filled with hope the moment you leave the cinema! My characters are human, weak – we can recognize ourselves in them and find hope there. Sometimes they make bad choices as if they were caught up in some external mechanism. I would like the film to resemble me with my hope as well as with my fears and worries. And I question myself all the time.